On April 24, 2023, PGPrints successfully organized the event "E-commerce and copyright disputes – Legal advices from experts", with the companion of Sherinian law offices, Tazapay and SCONNECT CO., LTD.
The event is also a milestone to announce that PGCom Fulfillment has officially changed its name to PGPrints. Along with that, are new policies and improvements:
Remove tax binding for all products shipped from China to UK, EU from May 1, 2023
Change, upgrade website and fulfillment application system to version 3.0
PG-Ads: Cross-platform service. Provide advertising accounts of platforms: Facebook, Google, Tiktok, Bing, Twitter.
PG-Law: PGPrints becomes the FIRST AND ONLY Vietnamese strategic partner of Sherinian law office in Illinois, USA. In this event, PGPrints officially launched a service to federally settle lawsuits in US courts.
Present at the conference, guest speaker Mr. Konrad Sherinian & Mr. Edward Bi shared about the Litigation Process – Legal solutions from experts, including: basic information about copyright lawsuits, the process of creating a lawsuit case, legal solutions and Settlement solutions.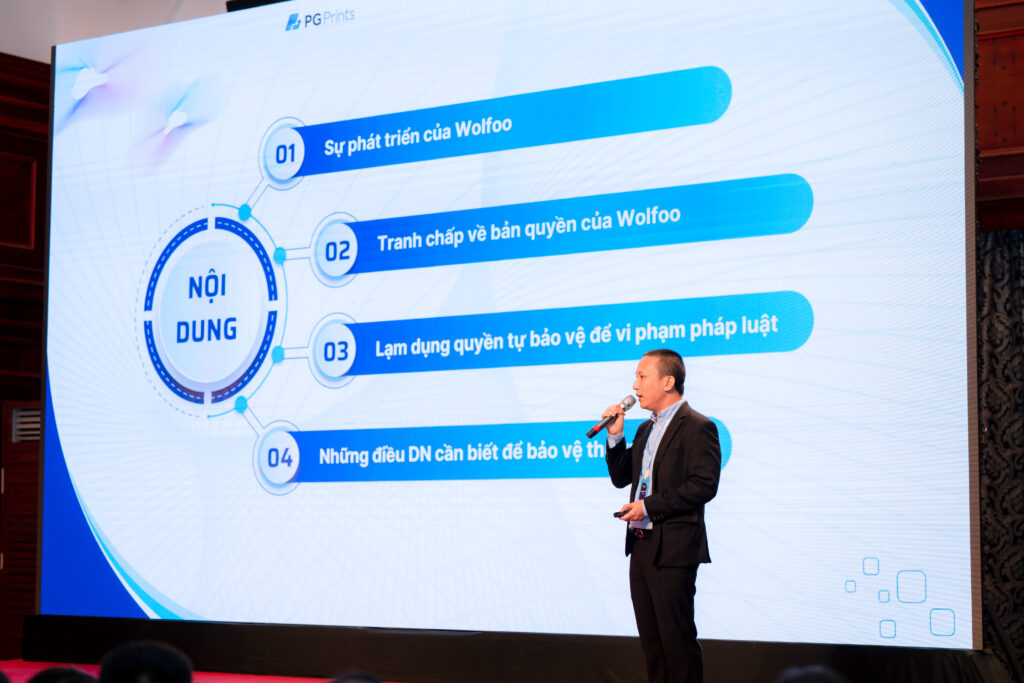 Representative of Sconnect – CEO Ta Manh Hoang brought a case study about the copyright litigation process for the Wolfoo cartoon character set, as well as the settlement process of Sconnect. Accompanied by a few experienced tips for businesses in term of Brand Protection.
Accompanying with the event was Tazapay, an international payment gateway that has developed almost comprehensively to solve the difficulties in payment solutions for sellers in Vietnam in particular and around the world in general in the past 2 years.
LianLian Global Vietnam is very pleased to present at the event "E-commerce and copyright disputes – Legal advices from experts". For merchants using PGPrints' fulfillment service, you can register to open a new LianLian account with many exclusive offers at the link below. Along with that is the outstanding payment experience in the near future.
ACCOUNT REGISTRATION FOR PGPRINTS'CUSTOMERS
Đơn vị phối hợp thực hiện: